Tuned to Nature
From private collections to art install commisions using salvaged materials and inspiration from the outdoors. "Ebbing Passage" Archway circa: 2019 located at Uplifted Care Grief Center. Bourbonnais, IL.
Read more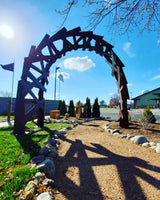 Location
Handcrafted in Manteno, IL
I work all wee hours of the day and night building products in my home shop/studio.